Description
The Eastbound Ultralight Compact Enduro Trail Jack
The Eastbound Ultralight Compact Trail Jack was introduced in May 2023 and was a huge overnight success! This Trail Jack is the smallest available motorcycle trail stand and a 'must have' when your motorcycle does not have a centre stand.  It allows you to lift the front or rear wheel of your enduro or adventure bike off the ground, to do scheduled or unscheduled repair and maintenance work.
Go Places but be prepared
The ultralight compact Trail Jack is meant for (emergency) situations in which repairs or work needs to be done on your motorcycle without a centre stand and no lifting equipment is available (for example: when travelling). In combination with the side stand, the Trail Jack is an indispensable aid when you have to remove a wheel to patch a flat tube, lubricating the chain or other situations in which one of the tyres needs to be lifted off the ground. With the Trail Jack this will also be possible in unexpected situation and remote places.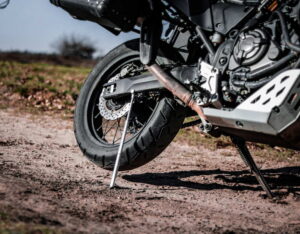 Unique 3-piece Eastbound Design
The unique Eastbound 3-piece telescopic design ensures optimal storability. The Trail Jack has a 'folded' length of approximately 22 cm and easily fits in all available (A-brand) tool rolls.  It consists of three CNC machined telescopic parts with a CNC machined support yoke screwed on the top part. A flexible rubber anti slip foot at the bottom also doubles as locking device. When you want to store the Trail Jack on your motorcycle, simply pull out the R-clips, let the three pieces slide into each other and pushed them together so they form one solid unit. When pushed together, the Eastbound Trail Jack has no loose parts.
Precision CNC machining
The Eastbound ultralight compact Trail Jack is CNC precision machined made from 7075 T6 Aerospace Aluminium. Precision CNC machining provides minimum clearances between the parts which ensures maximum stability. The top yoke is is designed for optimal stability when placed under the swing arm.
Engineered Design
The yoke has a 90-degree angle shape and is 12mm wide. The 90-degree angle is placed under and against the swing arm. It has a wide flat support surface area. This ensures stability because the flat surface prevents the tendency of the Trail Jack to slip away from under the swing arm. The vertical part of the 90-degree angle is designed to be hooked into one of the vent holes of your skid plate. When your skid plate doesn't have vent holes you may have to drill a 13 or 14 mm hole in a carefully selected position. This is easiest done with a pyramid drill and is further explained in the user instructions.
Features of the Eastbound Ultralight Compact Enduro Trail Jack;
as with all Eastbound Alu. products, entirely manufactured in The Netherlands.
one of the lightest and definitely the smallest (stored) trail jack on the market

,

approx. 22 cm folded and only 145 grams, all inclusive. 
special designed 90-degree yoke with wide flat surface ensures stable support of swing arm.
stored length is approximately 22 cm so it fits in your Mosko, Kriega, Enduristan or any other tool roll.
maximum usable length is over 49 cm suitable for almost any enduro or adventure bike.
stored as one unit with unique compression foot; no loose parts!
flexible rubber anti slip foot provides maximum stability on hard surfaces such as asphalt or rocks. When you store the Trail Jack,  the tapered end of inner most shaft element is pushed into the hollow rubber foot. This locks the complete unit together so there are no loose element to lose..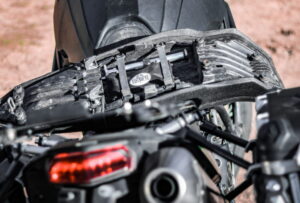 Delivery of the Eastbound Ultralight Compact Enduro Trail Jack includes;
3-pieces telescopic aluminium shafts with Yoke screwed op top
rubber anti slip foot
25 cm dubble sided original Velcro strap to lock front brake
two (2) R-clips to determine the working length of the Trail Jack
User Instruction
TIP; It is strongly advised to use the Trail Jack only on asphalted, paved or solid underground. Sometimes however it is not possible to get to such a place and you will have to fix your flat tire on the spot with only soft underground. When the underground is not strong enough to carry the Trail Jack foot, you can for instance look for a flat stone and dig it in to place the Trail Jack on. Or use for instance your riding glove or one end of your tool roll under the Trail Jack foot.