Description
Breaker Bar Adapter 3/8 inch square drive.
This simple but effective adapter combines a standard BGS Cr-Vanadium steel 3/8 " square drive breaker bar sliding piece with a custom 7075 T6 aluminium adapter to connect to the Eastbound lightweight 7075 T6 Aluminium Tyre-Pro lever sets. The 3/8 inch adapter allows you to use a large range of hex sockets, Alan key sockets and Torx sockets. In combination with the lightweight Eastbound lever sets you have a very handy compact and light weight breaker bar unit to your disposal which is very east to store on your bike. The largest element is only 13cm (5 inch) long. Torque rating for the adapter is 140Nm with a weight of 85 grams.
Note; this 3/8″ square drive adapter does NOT fit in the Eastbound Multifunctional HEX axle tool 3/8″ drive holes (SKU: 2205219-17-24).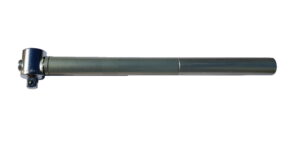 (the shown lever set is not included in the breaker bar adapter and has to purchased separately )
BGS technic KG is a traditional, owner-run, German based family business. It has been supplying a steadily growing range of hand tools and specialty motor vehicle tools for over 45 years. BGS tools stand out because of their high quality and excellent value for money