Description
 The BMW F 850 GS Wheel Service Kit
This BMW F 850 GS Wheel Service Tool Kit for front and rear wheels is especially designed and manufactured for the F 850 GS. The kit is packed in a small 17 cm x 9 cm canvas pouch.
With this compact kit under your motorcycle seat you can do your F 850 GS wheels maintenance and repairs anywhere!
3/8 inch breaker bar adapter
With the lightweight modular breaker bar with 3/8 inch square socket drive adapter you can use a large range of  HEX sockets, Torx sockets, Alan key bits, Torx bits, etc. Add the sockets and tool bits that fit your motorcycle and you have a complete 'toolbox'.
Rear wheel removal
Contrary to F 800 GS which uses standard axle nut sizes, the F 850 GS rear axle nut is an unusually large 34mm nut. There were no 7075 T6 lightweights tools on the market, only conventional steel tools. For that reason Eastbound has added the 34 mm ring spanner to its product range. The removal of the rear wheel is otherwise standard as on any conventional double sided swing arm motorcycle.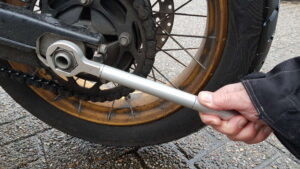 Front wheel removal
To remove the front wheel of the F 850 GS series BMW , you need a 12 mm Alan key to remove the axle bolt, a T40 Torx to loosen the pinch bolts and a T50 Torx to remove one or both of the brake callipers to allow the wheel to pass between the fork legs. All these tool are included as 3/8 inch bit elements which fit into the 3/8 inch bit adapter.
The BMW F 850 GS tool kit includes;
one (1) 34mm Eastbound 7075 T6 lightweight axle nut wrench
one (1) 3/8″ HeyTec square drive breaker bar adapter for 3/8″ x 10 mm bit drive socket
one (1) BGS 3/8″ x 10mm bit drive socket; for the various bits needed for front wheel removal.
one (1) BGS 10 x 12mm Alan bit; For removing front axle bolt.
one (1) BGS 10 x T50 Torx bit; for removing front brake calliper bolts
one (1) BGS 10 x  T40 Torx bit; for loosening front axle pinch bolts
one (1) Eastbound Tyre-Pro tool storage pouch
one (1) Eastbound 7075 T6 lightweight handle set
The F850GS Tool Kit features;
lightweight breaker bar of 28cm allowing for easy loosening and tightening of the rear axle nut
universal 3/8″ square drive and 10mm bit holder allowing use with a multitude of Torx, Alan, hex and screw driver bits.
very compact and easy to store. The canvas pouch easily fits in the space under the rear part of the seat or in the storage pocket of the front part of the seat.
total weight of the kit is 395 grams
torque rating of wrench over 200Nm and breaker bar 175Nm.
Expanding your Wheel Service Kit
You can simply expand your Wheel Service Kit with the Tyre Repair Extension Kit. With these extra items you can also change a tyre or fix a road side flat tube!
BGS technic KG and HeyTec are both traditional German, owner-run family business, which has been supplying a steadily growing range of hand tools and specialty motor vehicle tools for over 45 years. BGS tools stand out because of their high quality and excellent value for money. (See above on possible alternative supplier for the 27 mm socket)