Description
The BMW R 1200 GS Tool Kit for wheel service and maintenance; 
The BMW R1200GS Wheel Service Kit centers around the Multifunctional Eastbound HEX Axle Tool. The complete kit packs in a small 17cm x 9cm (6.6″ x 3.5″) canvas pouch.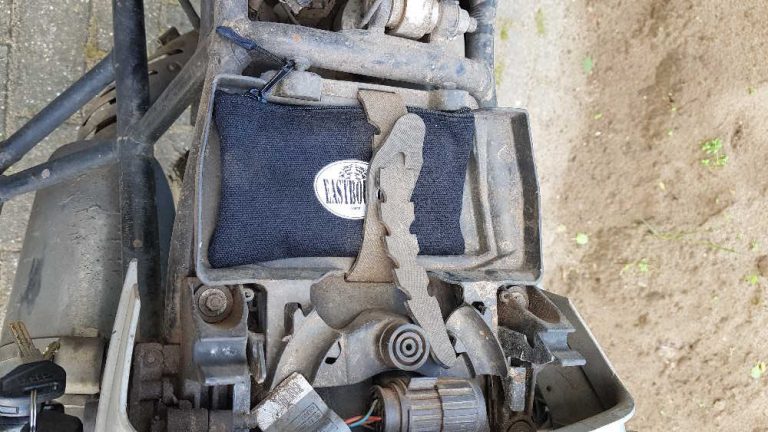 Do repairs (or maintenance) anytime, anywhere with this compact R 1200/1250 GS wheel removal kit.  
An added bonus of this BMW R1200GS tool kit is the multifunctional Eastbound HEX axle tool. The 3/8″ square socket drive ends and knurled centre ring make the unit suitable to be used as "screw driver" type handhold. With the 3/8″ square socket adapter in one of the tool ends it can be used with a large range of  HEX, Alan key or Torx sockets. The 10 mm bit drive adapter is suitable for smaller and lighter screw driver bits, Alan key bits or Torx bits. Add a set of assorted sockets and Torx bits that suit your bike and you have a complete 'toolbox' at hand. (Note that screw driver is not included in this kit)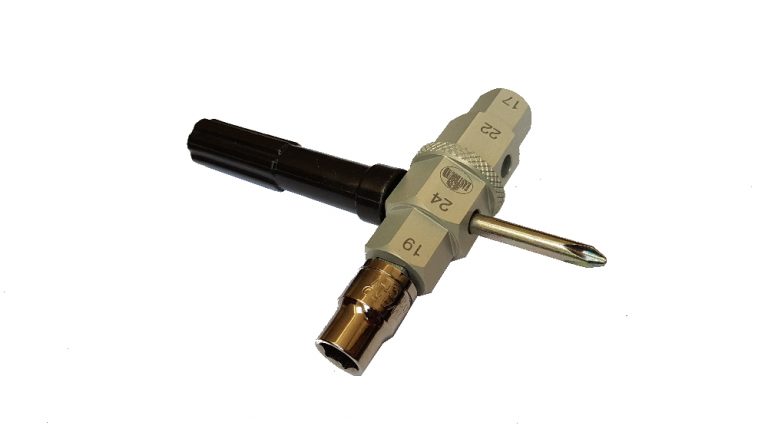 R 1200 GS  Rear wheel removal;
The R 1200 GS 's rear wheel bolts require a fairly long tool with a T50 Torx to properly access and remove the T50 Torx bolts. The combi of the 70mm HEX axle tool and the 75 mm T50 Torx provides sufficient tool length to conveniently fit the T50 Torx on the wheel bolts and to stay clear from the tyre with the lever.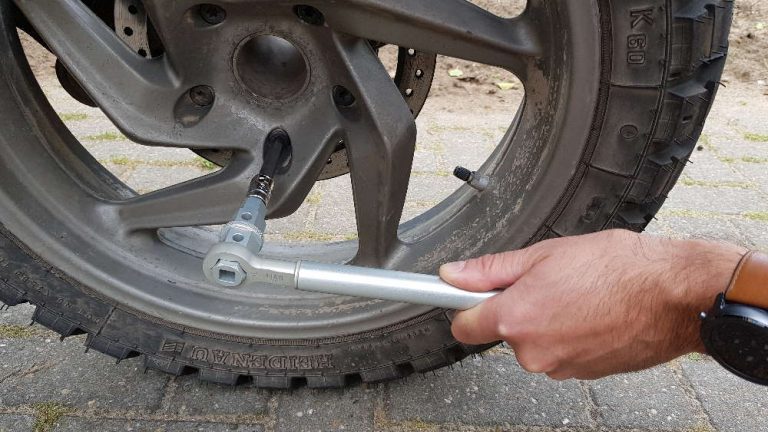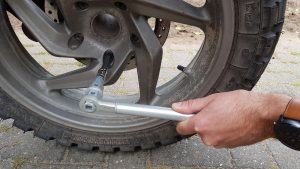 R 1200 GS  Front wheel removal;
To remove the front wheel of the oil cooled 1200 series, you need a 22mm HEX Allen key to loosen the Axle bolt and a T45 Torx to loosen the pinch bolts and one of the brake callipers to allow the wheel to pass between the fork legs. All these tool elements are included in this special kit.
The Eastbound R1200GS  Wheel Service Kit; all tools required to remove and reinstall both wheels in a handy, compact kit.
The Kit includes; 
one (1) Eastbound 7075 T6 lightweight and multifunctional HEX Axle tool; for 22mm Alan key front axle bolt and as adapter for various sockets and Torx bits.
one (1) 19 mm Eastbound 7075 T6 lightweight wrench; to drive the HEX axle tool (together with the lever set)
one (1) Gedore 3/8″ x 3/8″ square drive adapter; to connect the bit drive adapter to the HEX axle tool.
one (1) BGS 3/8″ x 10 mm bit drive adapter.
one (1) BGS 10mm x 75 mm T50 Torx bit; for removing rear wheel bolts.
one (1) BGS 10mm  x 30 mm T45 Torx bit; for front pinch bolts and removing of front brake caliper
one (1) Eastbound 7075 T6 lightweight lever set; required for use with the 19 mm Eastbound wrench.
one (1) Eastbound Tyre-Pro tool storage pouch
Extending your R 1200 GS  Kit with a tyre repair tool kit; 
You can simply extend your R 1200/1250 GS  Wheel service kit with the Tyre Repair Extension Tool Kit. With this extra kit you can service the bike wheels, brakes, change a tyre. When you damaged the rim and it won't hold air, you can install a inner tube. Unfortunately this isituation is not an exception!
Note; some BMW rims require preparations/modifications before you can install a tube.
BGS technic KG is a traditional, owner-run, German based family business; they have been supplying a steadily growing range of hand tools and specialty motor vehicle tools for over 45 years. BGS tools stand out because of their high quality and excellent value for money.