The motorcycle tyre repair kit!
the Tyre-Pro tool kit, ultralight & compact tire repair tools
especially designed for motorcycle travel
The Tyre-Pro motorcycle tyre repair kit
The Tyre-Pro motorcycle tyre repair kit is an ultra-compact and lightweight truly portable Aluminium tyre repair tool set especially designed for Adventure and Enduro riders. The Tyre-Pro Set offers you a;
tyre spoon set (included in Base Kit),
ultra compact, light weight and very strong bead breaker (included in Base Kit),
Common lever system for all applications (included in Base Kit),
heavy duty 14Oz PVC coated canvas storage pouches (2 x included in Base Kit)
axle nut wrench / spanner available in size 17, 19, 22, 24, 27, 32 and 34mm,
13mm – 3/8″ square drive for sockets & bits,
WheelWedge for easy tire & rear wheel fitting and installation.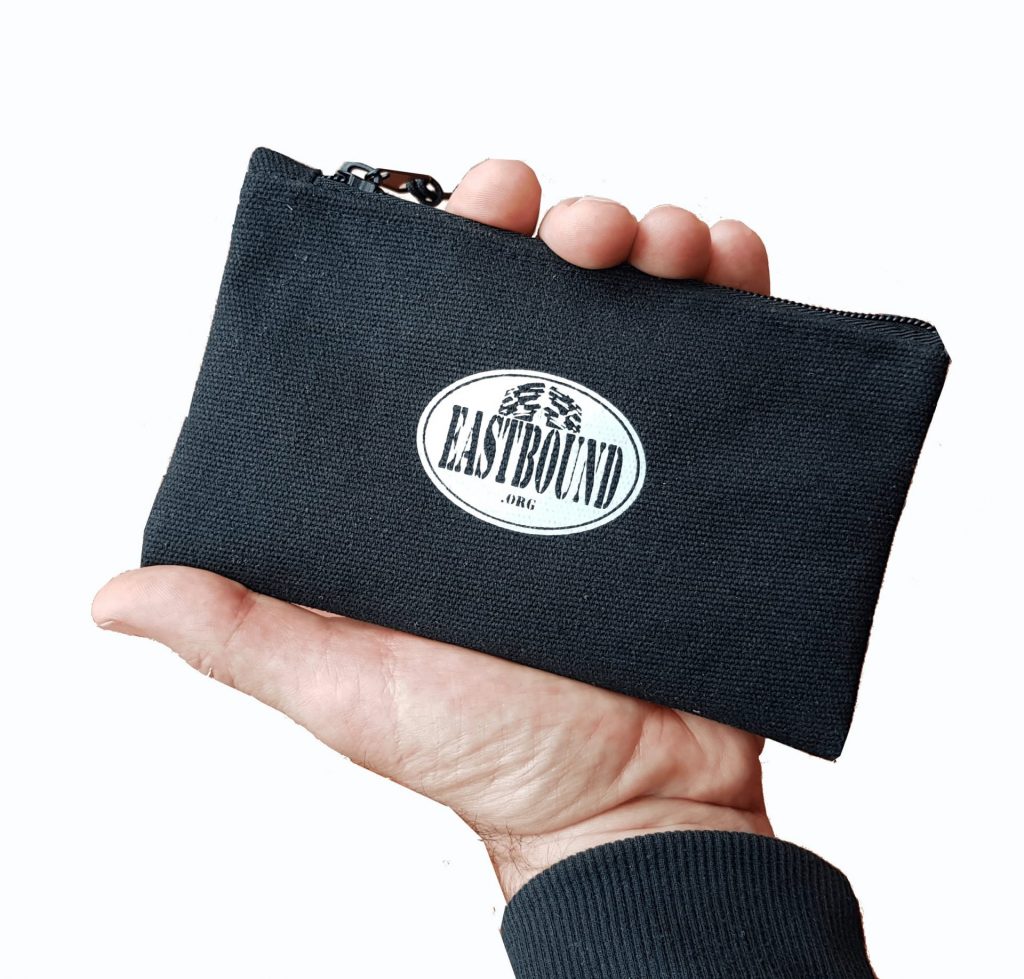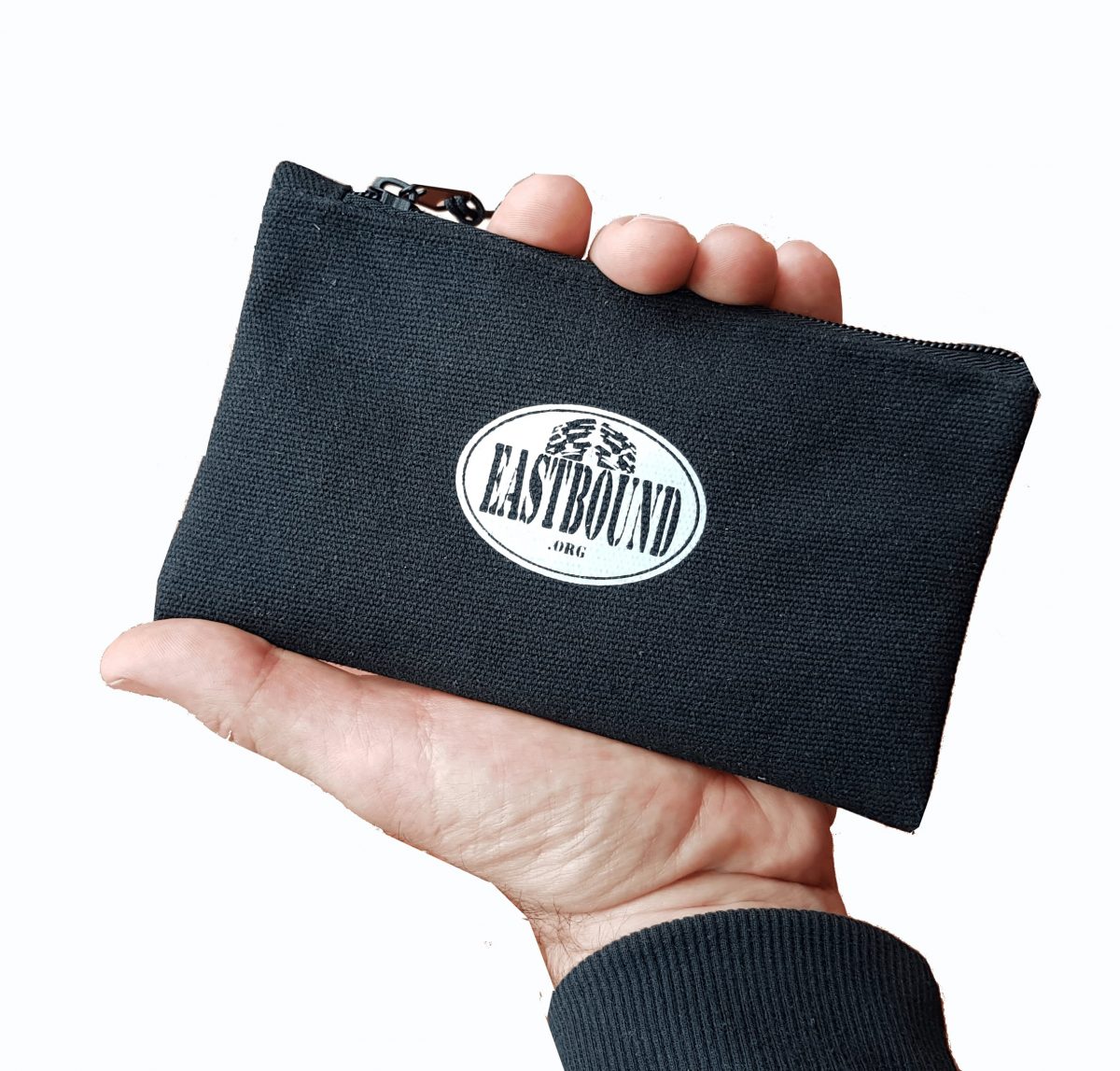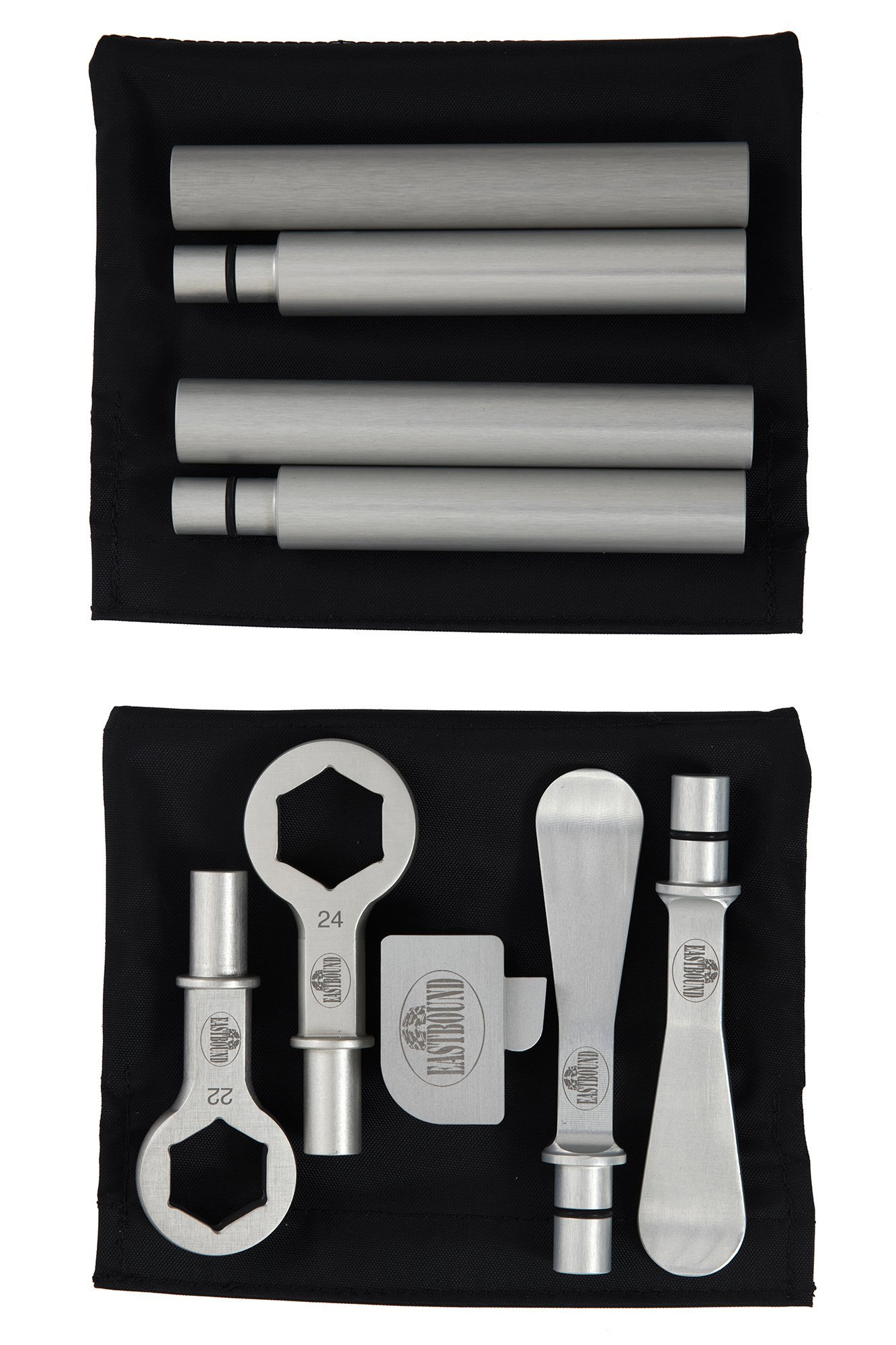 An ultra-compact, lightweight and truly pocket sized motorcycle tyre repair kit
The most commonly used motorcycle tyre repair kits are not designed with the emphasis on weight and compactness. They are often too long to fit in a tool roll and difficult to carry on a motorbike with very little storage space. While too long to fit a tool roll they are often too short to be really efficient when used. The Tyre-Pro motorcycle tyre repair kit solves these paradoxal requirements and is truly pocket size and yet provides full size spanners, tire levers and a patented powerful bead breaker. It is packed in two small pouches of only 17 x 9cm (6.7" x 3.6"). With roughly the size of a smartphone, each pouch weights only +/- 275 grams (0.60 lbs/9.7 oz). This allows for easy permanent storage on the bike. You can also easily put the set in your jacket pockets or even inner pockets. This can be very useful for day rides when you don't carry luggage. The Tyre-Pro tools are designed for situations when space and weight are at a premium. The choice for two pouches is driven by storage flexibility; two smaller pouches are easier to stow away than one larger pouch.
IMPORTANT TO KNOW ABOUT EASTBOUND DESIGN PHILOSOPHY:
The Aluminium components
The Tyre-Pro components are manufactured in the Netherlands with State of the Art CNC milling machines. All parts are machined from extremely strong billet 7075 T6 "aerospace" Aluminium. This guarantees maximum durability and strength with minimal weight. All parts are anodized to ensure optimal surface finish. The various parts can be purchased as a set or separately so you can cost effectively extend your Tyre-Pro tool set to also suit another motorbike.
Oversized design of the Tyre-Pro wrenches; 
Torqueing a rear axle nut to specs is one thing but breaking it loose when it's seized up, can be an entirely different story! This can require torques which significantly exceed the nominal tightening torque. For most motorcycles this is roughly between 95Nm (70ft-lb) and 110Nm (81ft-lb). Where other brands of lightweight aluminium axle nut wrenches are designed and limited to a torque of less than 125Nm (92ft-lb),  Tyre-Pro spanners 17mm and 19mm can easily handle 175Nm (129ft-lb) and the larger spanners even 225Nm (166ft-lb) without any deformation, bending or even scratching.  
Modular design
The Tyre-Pro motorcycle tyre repair kit is not only lighter and much more compact than any other comparable tool set (there is no comparable tool set really!) but it is also much more efficient and easier to use due to its longer levers. The Tyre-Pro set comes with four lever sections of 13,5cm (5.3″) which can be assembled in various combinations. The lever sections are common for the axle nut ring spanners, the bead breaker and tyre spoons. Using common lever sections for all applications reduces the size, volume and weight of the tools significantly and eliminates carrying around unnecessary bulk.
With the available lever sections you can assemble the following tool length combinations;
axle nut spanner combo's in 12.6″+12.6″ or 8.25″+16.5″  [32+32cm or 21+42cm]
tyre spoons combo's of 13.4″+13.4″ or 9″+17.3″     [34+34cm or 23+44cm]
bead breaker levers of 13.4″+13.4″   [34+34cm]
Even with normal shop tools, removing a wheel, breaking the bead and removing the tyre from the rim for replacement or fix a flat tube can be a very tough job, particularly in the field. With the Eastbound Tyre-Pro tools these tough jobs suddenly get a whole lot easier. 

Patented Bead Breaker Design
The Tyre-Pro bead breaker is an innovative and uniquely designed tool element which joins the two tire spoons and creates a powerful bead breaker plier with the functionality, dimensions and power of professional shop tools. The Tyre-Pro bead breaker set combines long powerful levers with a plier opening span of 35mm (from closed to fully open). Conventional travel bead breaker tools have a much smaller span (approx. 15mm) and much shorter levers, making the bead breaking on many tyres still very difficult. The Tyre-Pro set will break the bead on any motorcycle tyre. Road side tyre repairs don't get any easier than with the Tyre-Pro set.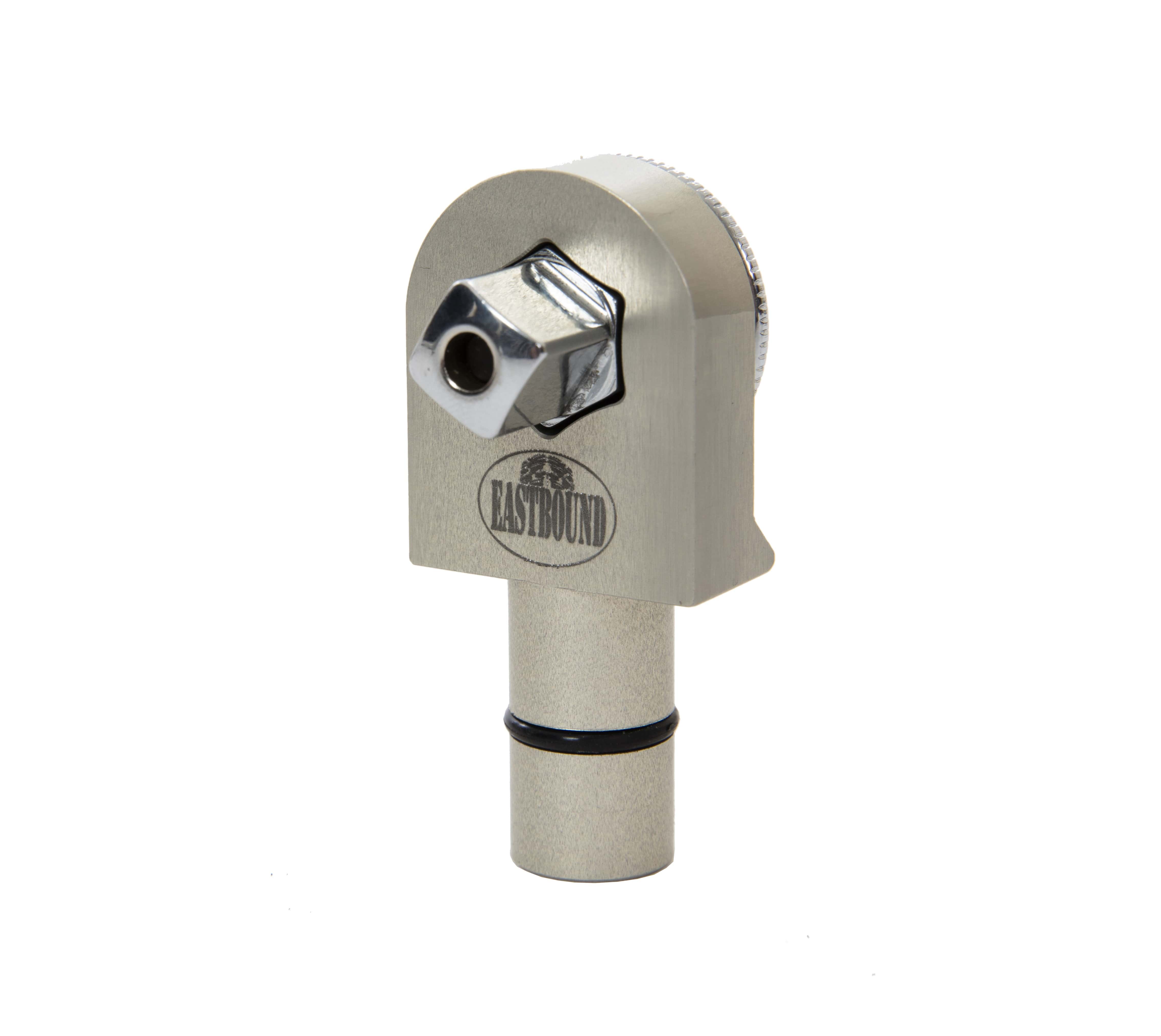 Tyre-Pro 13mm-3/8" square drive set
The 13mm Tyre-Pro adapter together with the 3/8" square drive convertor opens up the possibility of using the Tyre-Pro lever sections on a wide range of 3/8" square drive tools, metric sockets, inch sockets or Torx bit sockets to service for instance BMW R1200GS brakes or remove a wheel to change the tire. The high quality chromium steel 3/8" square drive adapter can also be used separately as a socket drive due to its "knurled coin" edge. The Tyre-Pro 3/8" square drive set can be converted to a 1/2" or 1/4" square drive, if so desired, with standard commercially available convertors. The 13mm adapter can of course also be used as a 13mm spanner, albeit that the head size of the adapter causes some restrictions.
Note; the 3/8" square drive insert does not have a ratchet function. The Tyre-Pro adapter set eliminates the necessity to carry very heavy solid steel ratchets or wrench breaker bars to work with metric, inch and Torx bits sockets or any other types of sockets.

The Tyre-Pro adapter is capable of handling torques up to 175Nm (130ftlb)
Tyre-Pro WheelWegde (& Impromptu BeadLock)
The WheelWedge is another unique but very simple and efficient Eastbound tool to single-handedly reinstall a motorcycle (rear) wheel without any effort. Reinstalling a rear motorcycle wheel all by yourself is often a struggle because you have to handle more wheel parts and elements simultaneously than you got hands available.
You need to;
lift the wheel and guide it between the swing arms,
keep both spacers from falling in the sand,
guide the rotor between the brake pads in the calliper,
align the axle bolt holes of wheel and swing arm
put the axle back in place…..
Eastbound WheelWedge assembled with tire levers  
The WheelWedge is made of anodized aluminium flat bar (6082 T6) which is fitted with two adapter stubs designed to connect with the Tyre-Pro tire levers. The flat bar ties the two tire levers together into a convenient wedge which eliminates the necessity to hand lift the wheel into position. Instead you push/kick the WheelWedge under the wheel, from back to front (with one foot or otherwise) thus lifting the wheel in a controlled manner and freeing up your hands to guide the spacers and rotor and align wheel axle hole and swing arm axle holes. With the WheelWedge you can align the axle holes very precisely and put the rear axle bolt back in place without any heavy lifting. To use the WheelWedge, your motorcycle needs to be placed on a centre stand.   
Impromptu Bead-lock
The WheelWedge is also very effective as an impromptu bead lock during reinstallation of a tire. The WheelWedge fits firmly between tire and rim and pushes the tire bead in the recessed centre / well of the rim while you work the bead on other side of the tire over the rim edge with the Tyre-Pro levers. The impromptu bead-lock prevents that the already positioned tire bead is pulled out again due to the applied tension on the other side of the rim. The WheelWedge-BeadLock works on spoked rims as well as on cast wheels.